This Saturday Hog Roast Speke were invited to cater at the local schools Christmas Fayre. This was the highlight of many of the pupils and parents' alike calendars as it was a chance to either help out on a stall or to go and spend their hard earned pocket money on sweet treats and festive games and of course there was bound to be a very special guest…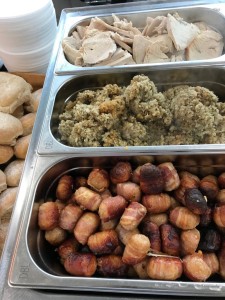 Hog Roast Speke set up in the school playground in amongst the stalls and got to work preparing a mighty feast for all the children and their families. We had been asked to prepare the traditional Christmas lunch so that was turkey and all the trimmings. For good measure we also brought along a hog to slow roast and some of our most popular vegetarian options such as a vegetable and haloumi tart so that there was something to please all the guests.
We got chance to have a quick peak around the fair whilst the turkey and hog were happily cooking away, and we were amazed. They had everything from cakes stalls, secret Santa gifts, a tombola and of course the parents favourite a bottle stall! The school had been decorated by the children too and looked truly magical and we noticed in the corner a special Santa's grotto where children had crowed around eager to see if anyone would be making an appearance…
Throughout the day we were kept busy by the visiting families and before we knew it the food was almost all gone! We had kept a couple of plates aside for  the event organisers and staff who had been working hard to make the day a special one for the children.
Out of nowhere it seemed Santa was suddenly here in the playground! He promised the children he would meet with them all in the grotto very soon but first on his list he had to grab one of our Hog Roast Speke turkey rolls! Who knew Santa was a fan of Hog Roast Speke? We are sure our food fuelled him up for what was looking like a very busy afternoon as the line of children waiting to meet him gathered…