2020 has been the year of shattered plans, but where there's a will there's a way, and at Hog Roast Raby we are here to help you pave that way! No matter what event or celebration you've been gearing up for, our team has a menu that will complement the occasion accordingly and the best part? We can serve that menu wherever and whenever you ask us to! Say goodbye to loud spaces or over-booked restaurants, with our team of professionals you can have an event that suits your terms entirely. Sounds good, doesn't it?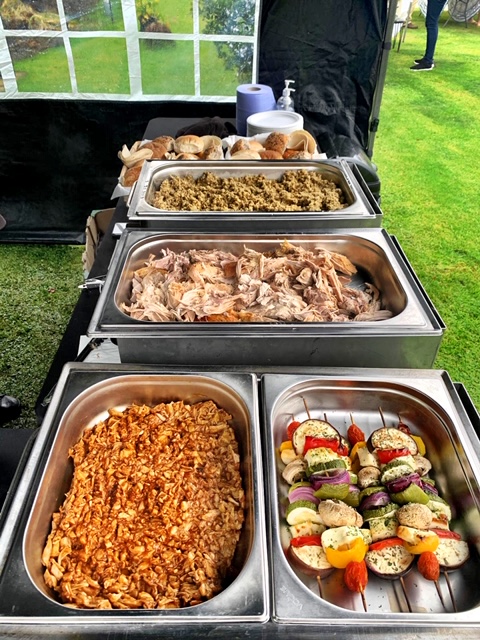 Calum thought so too, which is why he got in touch with us soon after his graduation plans fell through at the last minute. Unable to celebrate in the way he had initially planned, he instead decided to invite his fellow graduates over for an unforgettable feast served by Hog Roast Raby. Determined to give the group the best night possible, our catering manager spent some time going over our available packages with Calum, who eventually opted for our southern slow roast spread with both vegan and vegetarian alternatives for some of the guests. The client was really impressed with how quick and easy it had been to place a booking with us, and he immediately felt at ease with our team covering the food for the day.
Fast-forwarding to the day of the celebration, Hog Roast Raby showed up at Calum's home around six hours before the serving time, which gave our team just enough time to prepare the feast of fall off the bone Louisiana sticky pork ribs, creole pulled quarter of spiced lamb and Texan 24 hour beef brisket, which were paired with Greek salad, mac and cheese, Memphis style crunchy coleslaw and Cajun spiced sweet potato wedges. For vegetarians and vegans, the catering crew whipped up some of our famous grilled veggie skewers with tzatziki dip, and flatbreads along with BBQ pulled jackfruit.
Staying true to tradition, the graduation group arrived in their gowns and customised caps which they tossed in the air before piling their plates with the piping hot food from the buffet table.