When its game day you need a feast by your side, and Hog Roast Thingwall can provide just that!
It's the Rugby World Cup once again, and as we have done and will continue to do for many big sporting tournaments, we have your catering in hand to help get you and your guests over the line. This past weekend saw the kick-off of France 2023, and already many of our customers around the country have taken advantage of our special rugby world cup menus.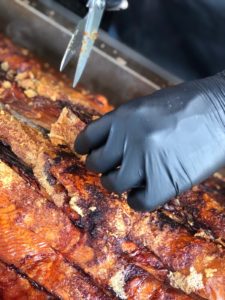 For your match day events you can have a Hog Roast Thingwall team on hand throughout the match, serving drinks and brilliant roasted foods to all your guests ensuring that no one has to miss a single minute. We know that rugby teams can eat, and the same goes for our match day guests who tucked away their share of hog roasts, barbecued skewers, burgers, sausages, freshly prepared sides and salads, and even a couple desserts too for those with a sweet tooth! It is the French world cup, after all, so it only makes sense to have a profiterole or two. For such events our team show up early in the day as we do with all our events and immediately get to work cooking and prepping. Come match time we'll have a banquet ready for all your guests. That could be in the form of a buffet filled with food; it could be as simple as a hog roast roll to go along with your drinks; or it could be a full set course lunch or dinner to be served throughout the match. Either way, you'll be eating well for every single scrum, tip-off, and try!
A Hog Roast Thingwall catered lunch for the match is the next best thing to actually being in the stadium cheering on the team. You might not be getting French delicacies, but you've got even better right on hand with great British roasts! With match day one already down we're raring to go again for each game right throughout September and into October, so make sure to try and book your own Hog Roast Thingwall catering team for world cup today!